[ad_1]

By: Express Web Desk | New Delhi |

Updated: January 30, 2020 2:56:40 pm
Jamia firing: The man, identified as Gopal, has been detained. (Reuters)
A man wielding a gun opened fire during a protest against the Citizenship (Amendment) Act outside Jamia Millia Islamia in New Delhi on Thursday, injuring one student. The student, who was shot in the hand, has been rushed to Holy Family hospital, in the vicinity.
In the video, the man brandishing the gun can be heard saying, "Yeh lo azaadi…Hindustan zindabad…Delhi Police zindabad." Delhi Police personnel were present when the shooting took place. The man, identified as Gopal, has been detained.
The students of Jamia were to hold a march to Rajghat on the 72nd death anniversary of Mahatma Gandhi.
The shooting comes days after Union Minister Anurag Thakur at a BJP rally encouraged those present in the crowd to chant 'Goli maro saalon ko.' Thakur, addressing an election rally Monday, repeatedly chanted "Desh ke gaddaron ko" and had people responding with "goli maaro saalon ko". It roughly translates to "What should be done with traitors of the country? Shoot them". The Election Commission has imposed a further 72-hour ban on Thakur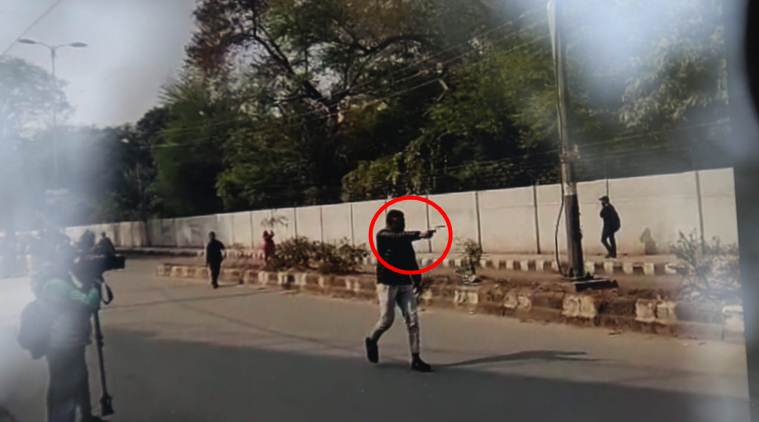 Jamia firing: The man wielded a gun at an anti-CAA protest in Jamia (Express photo/Gajendra Yadav)
On December 15, Delhi Police had stormed the Jamia campus injuring hundreds of students. Four DTC buses, 100 private vehicles, and 10 police bikes were damaged after the protest against the citizenship law turned violent.
This is a developing story. More details awaited
For all the latest Delhi News, download Indian Express App
© IE Online Media Services Pvt Ltd
[ad_2]

Source link
[ad_3]